Annual event celebrates LGBT+ history month
Leading lesbian, gay, bisexual and transgender (LGBT+) spokespeople visited Lincolnshire to talk to professionals during an LGBT+ conference held last week.
The annual event took place for the fourth time and this year it was based around increasing LGBT+ awareness: listening, growing, and building together. The conference was run in partnership between Lincolnshire Community Health Services NHS Trust, Lincolnshire Partnership NHS Foundation Trust, United Lincolnshire Hospitals NHS Trust and Lincolnshire Police.
Paul Devlin, Chair of Lincolnshire Partnership NHS Foundation Trust (LPFT), opening the event on behalf of the organisers, said: "Hard-fought changes in legislation and shifts in public perception do not mean that everything is ok for all LGBT+ people. We continue to hear stories of negative experiences and this conference helps professionals understand how to deliver safe and welcoming services for all."
Bernard Reed OBE and Terry Reed OBE from the Gender Identity Research and Education Society spoke about the traumatic experience of their daughter who transitioned in the workplace. These events have inspired Bernard and Terry to improve the lives of trans and gender non-conforming people by educating others and lobbying for changes in policies, especially in healthcare.
PC Andrew Sudbury, Chair of the East Midlands branch of the National LGBT Police Network, talked about what it is like to be gay in the Police and issues he has faced. Andrew said: "When I first started in the police I felt very alone. I had spent a lot of time building up a wall to hide who I was and to protect myself from people finding out that I was gay. By constantly thinking about maintaining the façade, my work wasn't up to standard and I was struggling to keep my head above water.
"Eventually, when I came out at work, I was put in touch with the Gay Police Association, my relationship with colleagues improved, I became a happier person and I started to feel like I belonged."
Other speakers at the event included Hannah Watson, Diversity and Inclusion Consultant and Manjinder Singh Sidhu, human rights activist who shared their personal stories.
Hannah said: "Throughout my teenage years I felt like a square peg being forced to fit into a round hole. My thoughts and feelings about my gender were just dismissed as me being a teenager, which had a very detrimental effect on my mental health. Meeting understanding professionals on my transitioning path, such as my GP, really helped turn my life around. Events like this conference help professionals to recognise what a profound impact they may have on the lives of LGBT+ people."
Recordings of selected presentations from the day are available to watch via the LPFT Facebook page
www.facebook.com/lpft.nhs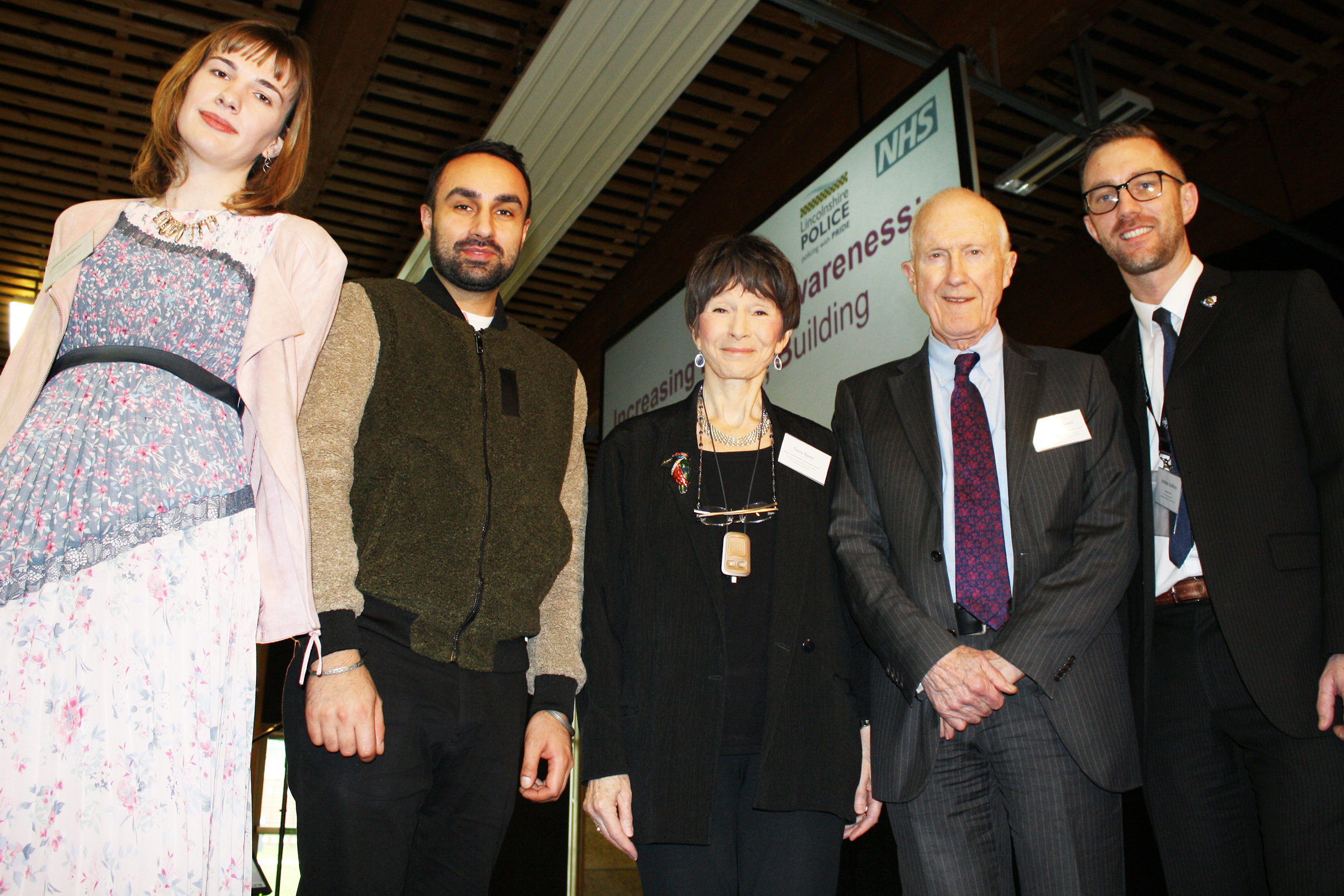 Photo caption: (L-R) Hannah Watson, Manjinder Singh Sidhu, Terry Reed OBE, Bernard Reed OBE, PC Andrew Sudbury.