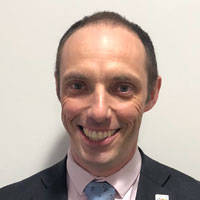 LCHS welcomes new Director of Finance and Business Intelligence
Lincolnshire Community Health Services NHS Trust (LCHS) has welcomed a new director of Finance and Business Intelligence to its Board.
Sam Wilde takes on the substantive role, having previously joined LCHS on an interim basis.
Sam said: "I am very much enjoying working in Lincolnshire, both in the challenge the role presents and in having the opportunity to explore the local area. This is an exciting time to be involved in NHS services and hope I can continue to make positive contributions to LCHS and Lincolnshire's wider health system."
Sam graduated in 1996 having studied finance and accountancy before completing an MBA at Durham University.
He has worked in the NHS for six years, having previously worked in a number of Blue Chip companies in the private sector.
Sam joins LCHS having worked as Associate Director of Finance for Norfolk Community Health and Care NHS Trust.
Chief executive Andrew Morgan said: "We are very pleased to welcome Sam to LCHS on a permanent basis, following a recruitment process which offered a number of very high-calibre candidates. His experience and expertise are valuable to our Board and the wider organisation."