Countering Fraud, Bribery and Corruption in the NHS
Welcome to the Counter Fraud, Bribery and Corruption section which contains important information, guidance and advice for countering fraud, bribery and corruption in the NHS. We all know that the majority of people who work in and use the NHS are honest, but a minority will seek to defraud it. It's important that we are all aware of the types of fraud that are committed and are not afraid to report fraudulent behaviour.
One of the basic principles of the NHS is the proper use of public funds. It is therefore important that all staff working in the public sector are aware of the risk of fraud, bribery, corruption, theft, and other illegal acts involving dishonesty.
Whether you are an NHS employee, contractor, supplier of goods and services or a member of the public, your input is crucial to help us tackle fraud and corruption in the health service. Anyone can report concerns about fraud in the NHS.
Do you know what fraud is?
Fraud is wrongful or criminal deception intended to result in financial or personal gain.
Why is fraud an issue for the NHS?
Fraud costs the tax payer billions of pounds each year. The NHS share of this is likely to run into at least hundreds of millions of pounds. As we all know the NHS is in financial difficulty, saving money lost through fraud is important as it is money that can be used for patient services and staff costs.
How can we stop fraud in the NHS?
Everyone working in the NHS has a role to play to stop fraud, for example by remaining vigilant, following agreed upon procedures and raising concerns. Local Counter Fraud Specialists work within the NHS to prevent, detect and investigate fraud.
How might fraud in the NHS look?
Below are some examples of the types of fraud committed against the NHS: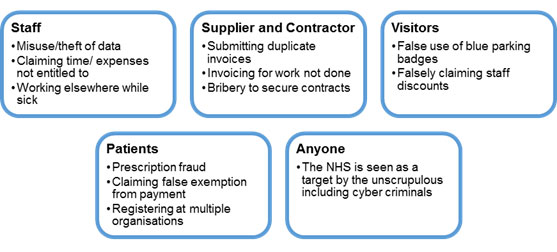 What can we do about fraud?
The NHS has a zero-tolerance approach to fraud. Three courses of action are considered where a fraud is found. Any one of these, or a combination of them, can be used.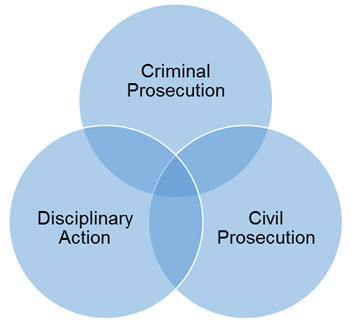 Bribery and Corruption
Fraud is not the only threat to the NHS. Bribery and corruption is also a key concern. It is illegal to pay, offer, take or ask for a bribe.
The risk of bribery is more common in some roles than others. For example, staff in a procurement team might be offered bribes when large contracts are being awarded.
The NHS takes bribery very seriously. If you feel someone is trying to unduly influence you or your decisions, please treat it in the same way as a suspected fraud.
---
---
Countering Fraud, Bribery and Corruption in the NHS thumbnail list
Back to About Us
Date Last Modified 06/07/2021