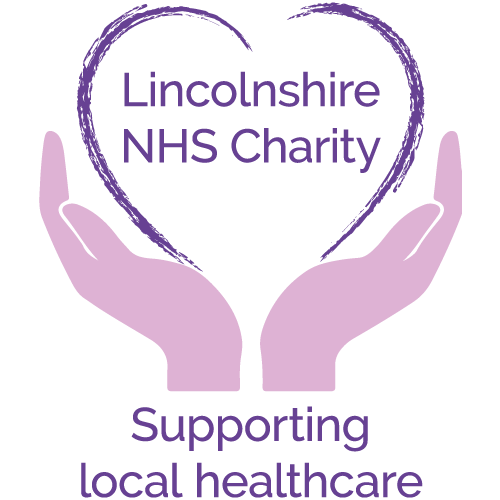 Lincolnshire NHS Charity
Lincolnshire NHS Charity is an independent and dedicated charity that plays a vital role in supporting both Lincolnshire Community Health Services NHS Trust and Lincolnshire Partnership Foundation NHS Trust to make a difference to service user care.
It supports innovative projects to enhance services and facilities that would not be funded by the NHS.
Last year alone, more than £80,000 was spent on improving patient care and supporting staff with additional training. Some of the purchases made were:
toys for the children's room at Skegness Urgent Care
treadmills for the Cardiac Rehabilitation Service
an ultrasound bladder scanner for County Hospital, Louth
Christmas decorations to brighten up wards for those in our care over the festive season.
The charity raises its money in many ways; staff and patients are often running various sponsored events, cake sales, balls and other events. Plus generous donations from patients and their families are very gratefully received.
Every penny is spent wisely and really does help local people. We are happy to keep in touch and let you know how your money has been spent.
The charity is governed by a highly qualified board of trustees and advisors. Its vision is to promote excellence in healthcare by raising and investing funds to improve the healing environment.
Lincolnshire NHS Charity is registered with the Charity Commission and its registration number is 1055217.
Click here to view the 2019/20 Lincolnshire NHS Charity annual report.
Whilst we gratefully receive donations to our charity from patients, members of the public and other organisations, we also pro-actively fundraise.

Staff, patients and their families work very hard each year to raise money for our Lincolnshire NHS Charity.
We have had balls, a sponsored swim, a charity race night, bake-offs, raffles, sponsored walks, Santa runs, sky dives and so much more.
We ensure that the money raised is spent locally, within the wishes of the donor and with great care to maximise the benefits to our patients.
If you would like to help with fundraising for us then please contact our friendly and helpful staff at lhnt.Charitable.Funds@nhs.net or on 01522 308893
Alternatively you can write to us at:
Beech House, Witham Park, Waterside South Lincoln, LN5 7JH
Please click on this link to download a fundraising pack to support your fundraising.
Visit our fundraising sites:
Virgin: Virgin general fund
Covid-19: Virgin Covid-19 fund
When donating, please make cheques payable to: Lincs Comm Health Servs NHS Trust Charitable Funds and let us know which service or fund your donation is intended for.
Are you a seasoned professional pumpkin carver? Do you or your kids love to be creative with pumpkin carving? If the answer to either of these questions is yes, then read on!
We are inviting people to get into the Halloween spirit by taking part in our pumpkin carving contest this October!
There's three prize bundles up for grabs from Bell's Garden Centre of Benington, including a beautiful autumn hamper. Entries will be judged on their originality and creativity with the top three winning entrants receiving a prize.
As this is a fundraising appeal for the Lincolnshire NHS Charity there's an entry fee of £5 per entry. All proceeds from this competition will support the work of the Lincolnshire Community Health Services NHS Trust Parkinson's Service who care for patients living with Parkinson's at home throughout Lincolnshire.
How to enter:
Donate £5 to the Lincolnshire NHS Charity Pumpkins for Parkinson's appeal via the Virgin Money Giving page: Click here to donate online
Send in a photograph of your carved pumpkin, full name, and contact details via email: lhnt.charitable.funds@nhs.net or Facebook Messenger: Search for 'Lincolnshire NHS Charity'.
(A brief description of the photograph, your full name, and your contact details should be included with the entry. Please ensure the name you provide with your entry is the same as the name you used to donate online so we can match the entry to the donation)
Closing Date:
This competition closes on Sunday 31 October 2021 so be quick to submit your entries!
Prizes:
1st Prize: Autumn Planter and a £10 Gift Voucher for Bell's Garden Centre
2nd Prize: Gourds and Squashes Hamper
3rd Prize: £10 Gift Voucher for Bell's Garden Centre.
All prizes have been kindly donated by Bell's Gardening Outlet of Benington.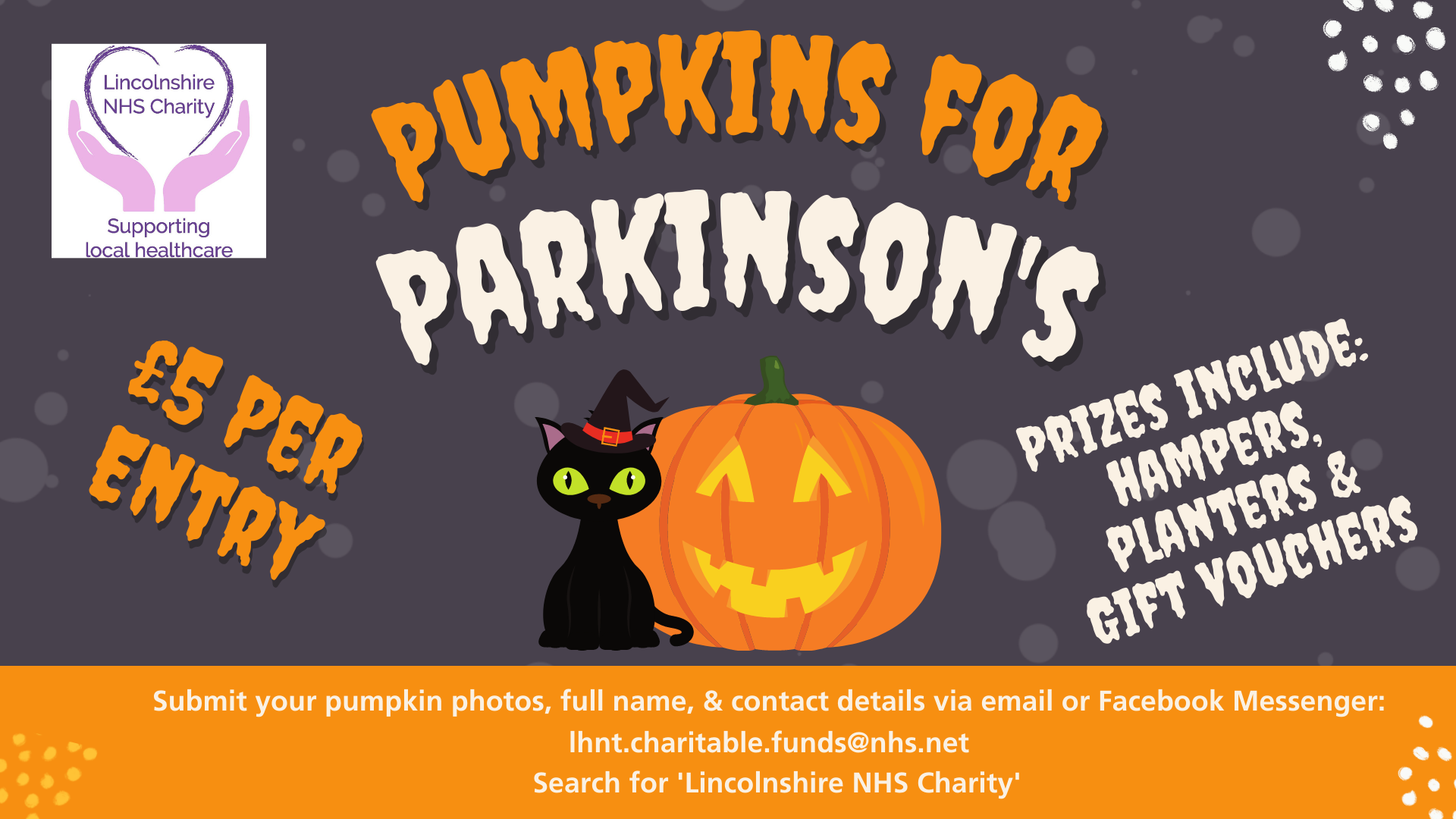 Competition Terms and Conditions:
It is a condition of entry that all rules are accepted as final and the competitor agrees to abide by these rules. Submission of an entry will be taken to mean acceptance of these terms and conditions. The decision of the judges is final and no correspondence will be entered into.
Entries should be submitted via email to lhnt.charitable.funds@nhs.net or via Facebook messenger to 'Lincolnshire NHS Charity' and include a description of the image, entrant's full name and contact details.
All images submitted must be original work of the individual submitting them and must not have been published elsewhere or have won a prize in any other competition. It is the responsibility of each entrant to ensure that any images they submit have been taken with the permission of anyone in the photo and do not infringe the copyright of any third party or any laws. Entrants must warrant that the photograph they are submitting is their own work and that they own the copyright for it.
Minor digital adjustments to submitted images is allowed, such as crop, levels, curves, contrast, colour, saturation and sharpening. However the image must still be a faithful representation of the original scene. Composite and multiple exposures are NOT allowed, nor the adding or removing of subjects into or from the image.
Copyright in all images submitted for this competition remains with the respective entrants however, as a condition of entry in to the competition, each entrant grants a royalty free, worldwide, irrevocable, perpetual licence to Lincolnshire NHS Charity, Lincolnshire Community Health Services NHS Trust, and Lincolnshire Partnership NHS Foundation Trust to feature any or all of the submitted images in any of their publications, their websites and/or in any promotional material.
All entries must be received by the advertised closing time and date.
Late, illegible, incomplete, defaced or corrupt entries will not be accepted. No responsibility can be accepted for lost entries and proof of transmission will not be accepted as proof of receipt.
The winning entries will be those which are judged to be the most visually appealing, original & creative pumpkins.
The Langworth Ward at Witham Court provides specialist acute inpatient care for older adults with needs that are too complex to be safely managed within the community. Patients admitted to the ward can have complex needs as a result of dementia and mental health difficulties. In the past, the patients have participated in activities such as gardening and basic 'do it yourself' tasks. However as care in the community has expanded, the patients in the care of the ward have increasingly complex needs and are unable to undertake these tasks without causing damage to the flowers.
The Lincolnshire NHS Charity is working with the activity coodinators at Langworth Ward to remedy this problem by launching the Langworth Ward Flower Appeal. We are asking for your help to make some knitted or crocheted flower heads which can be attached to a stem by the activity coordinators and 'planted' in the flower pots in the courtyard at Witham Court. These flowers can be of any size, shape or colour. This will enable the patients to participate in gardening tasks such as planting flowers and weeding without damaging the plants themselves. It will also ensure that the courtyard area of the ward is colourful and pretty all year round.
Here's some links to crochet patterns we found online to get you started:
Please send your finished flowers to the following address:
Anita Laskey, Langworth Ward, Witham Court, Fen Lane, North Hykeham, Lincoln, LN6 8UZ.
Alternatively, if you would like to donate towards this appeal please visit our Virgin Money Giving page:
Langworth Ward Flower Appeal (virginmoneygiving.com)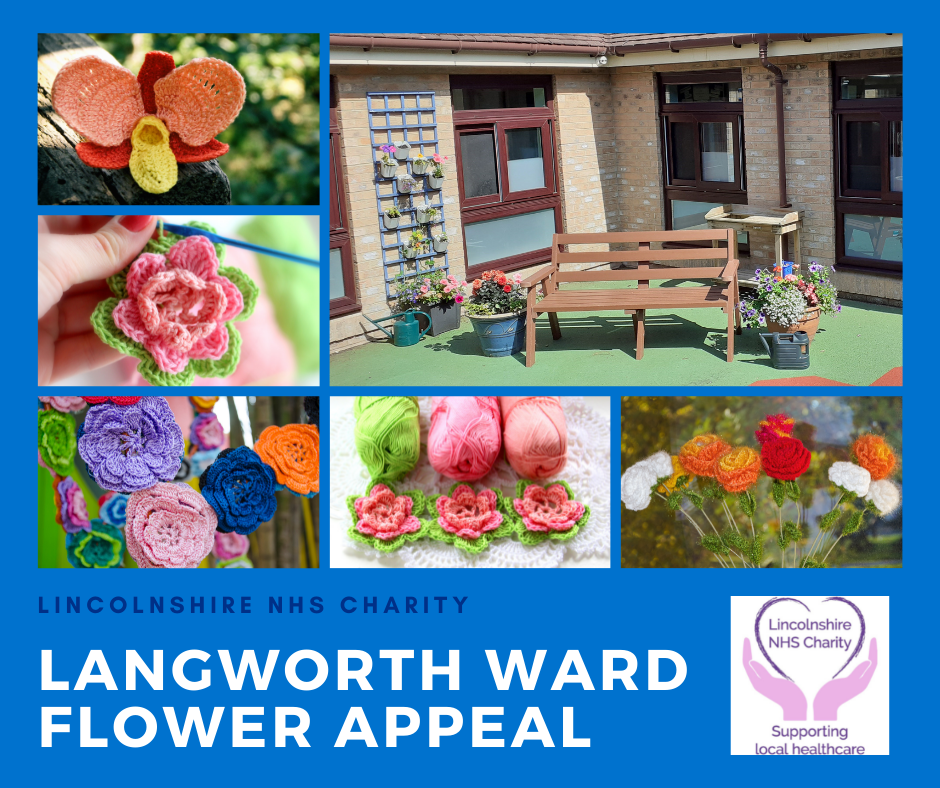 Lincolnshire NHS Charity are supporting the staff at Scarbrough Ward in Skegness Hospital to raise vital funds to pay for a therapy dog to help rehabilitation and end of life care patients.
Thanks to the amazing support and donations we have received through this appeal we have now raised enough money to purchase our therapy dog puppy! We have chosen to name the puppy 'Rammie' after Dr Ram who works on our ward. Dr Ram can be seen pictured below with therapy dog to be 'Rammie'.
We Still Need Your Help
Whilst we have now raised enough funds to purchase Rammie, we are still fundraising and looking for donations to support Rammie's training and ongoing care needs. We are extremely grateful for any donations we receive via this page, by text, or by cheque.
For more information and to donate online visit our Virgin Money Giving page:
https://uk.virginmoneygiving.com/charity-web/charity/displayCharityCampaignPage.action?campaignId=17683&charityId=1015607
Under Gift Aid, HM Revenue & Customs (HMRC) will usually top up every £1 given to a charity with 25p. So Charitable Funds could receive an extra £250 for every £1,000 you donate with no extra expense to you or your sponsors.*
For donations to be eligible for Gift Aid, the donor needs to be a UK taxpayer and have paid an equal amount in income/capital gains tax. This means, for us to claim £2.50 on a £10 donation, the sponsor must have paid at least £2.50 in tax. Gift Aid cannot be claimed on company donations or collections from other people.
To allow us to claim this much-needed additional income, you or your sponsors must:
tick the Gift Aid box on your sponsorship form when they sponsor you or fill out a gift aid declaration form
write their full name and title
include their home address with full postcode
avoid ditto marks. If a number of sponsors live at the same address, they must each complete the address and postcode fields
donate individually. You cannot make joint donations, for example from Mr & Mrs Smith as the HMRC needs to determine who the taxpayer is
For more information about Gift Aid, please visit HMRC's website: http://www.hmrc.gov.uk/
*Please note that Gift Aid top-ups should not considered as part of your sponsorship target.
Fundraising and communications activities undertaken by the Lincolnshire NHS Charity are overseen by a committee of trustees' that are committed to ensuring the charity continues to meet the expectations of its donors and patients in the care of Lincolnshire Community Health Services NHS Trust and Lincolnshire Partnership NHS Foundation Trust.

The committee have devised mission and vision statements and a set of strategic aims that are used to benchmark the fundraising and communications activities undertaken by the charity.
Our Mission
The Lincolnshire NHS Charity will help to improve the health and wellbeing of patients and families served by Lincolnshire Community Health Services NHS Trust and Lincolnshire Partnership NHS Foundation Trust.
Our Vision
To enable the people of Lincolnshire to live well in their communities with great care, close to home.
Our Strategic Aims
To provide additional resources - not normally provided by the NHS - to allow each Trust to achieve its stated vision and mission.
To raise, significantly, the profile of the charity throughout Lincolnshire.
To increase income by encouraging fundraising.
To use money respecting the wishes of donors.
To operate with good and cost effective. governance and within the legal framework of the NHS and Charities Commission.
Back to Join Us
08/10/2021