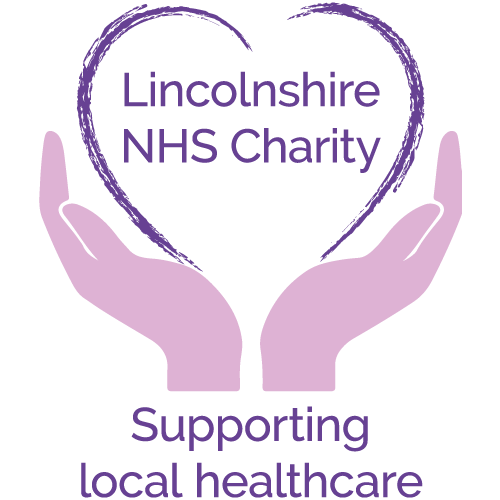 Lincolnshire NHS Charity
Lincolnshire NHS Charity is an independent and dedicated charity that plays a vital role in supporting both Lincolnshire Community Health Services NHS Trust and Lincolnshire Partnership Foundation NHS Trust to make a difference to service user care.
It supports innovative projects to enhance services and facilities that would not be funded by the NHS.
Last year alone, more than £80,000 was spent on improving patient care and supporting staff with additional training. Some of the purchases made were:
new equipment for the children's physiotherapy service at Johnson Hospital
a therapy puppy
an ultrasound bladder scanner for County Hospital, Louth
Christmas decorations to brighten up wards for those in our care over the festive season.
The charity raises its money in many ways; staff and patients are often running various sponsored events, cake sales, balls and other events. Plus generous donations from patients and their families are very gratefully received.
Every penny is spent wisely and really does help local people. We are happy to keep in touch and let you know how your money has been spent.
The charity is governed by a highly qualified board of trustees and advisors. Its vision is to promote excellence in healthcare by raising and investing funds to improve the healing environment.
Lincolnshire NHS Charity is registered with the Charity Commission and its registration number is 1055217.
Click here to view the 2020/21 Lincolnshire NHS Charity annual report.
Help our charity to continue to support the care of patients across Lincolnshire by donating online today:
---
The NHS Big Tea at Ellenders Bar!
In partnership with ULHT Charity, in July we held our NHS Big Tea Event. It was a wonderful collaboration with Music, Dance and lots of Cake!
As people arrived they could buy drinks and cakes to have before the entertainment started. These were kindly dontated by Bakkavor and we were supported throughout the day by Boston Football club so we want to give them a big thank you.
As the event began we had a big bouncy castle for children to have a play on and it was a big hit. Luckily the rain stayed off for most of the day so everyone could have a go.
The entertainment began and we were in for a huge treat! There was so much talent on show, including renditions of musical songs including some from the Jersey Boys and dances. They were incredible to listen to and everyone enjoyed singing and dancing along.
We also had a lot fo competitions to get involved with such as guess the weight of the cake!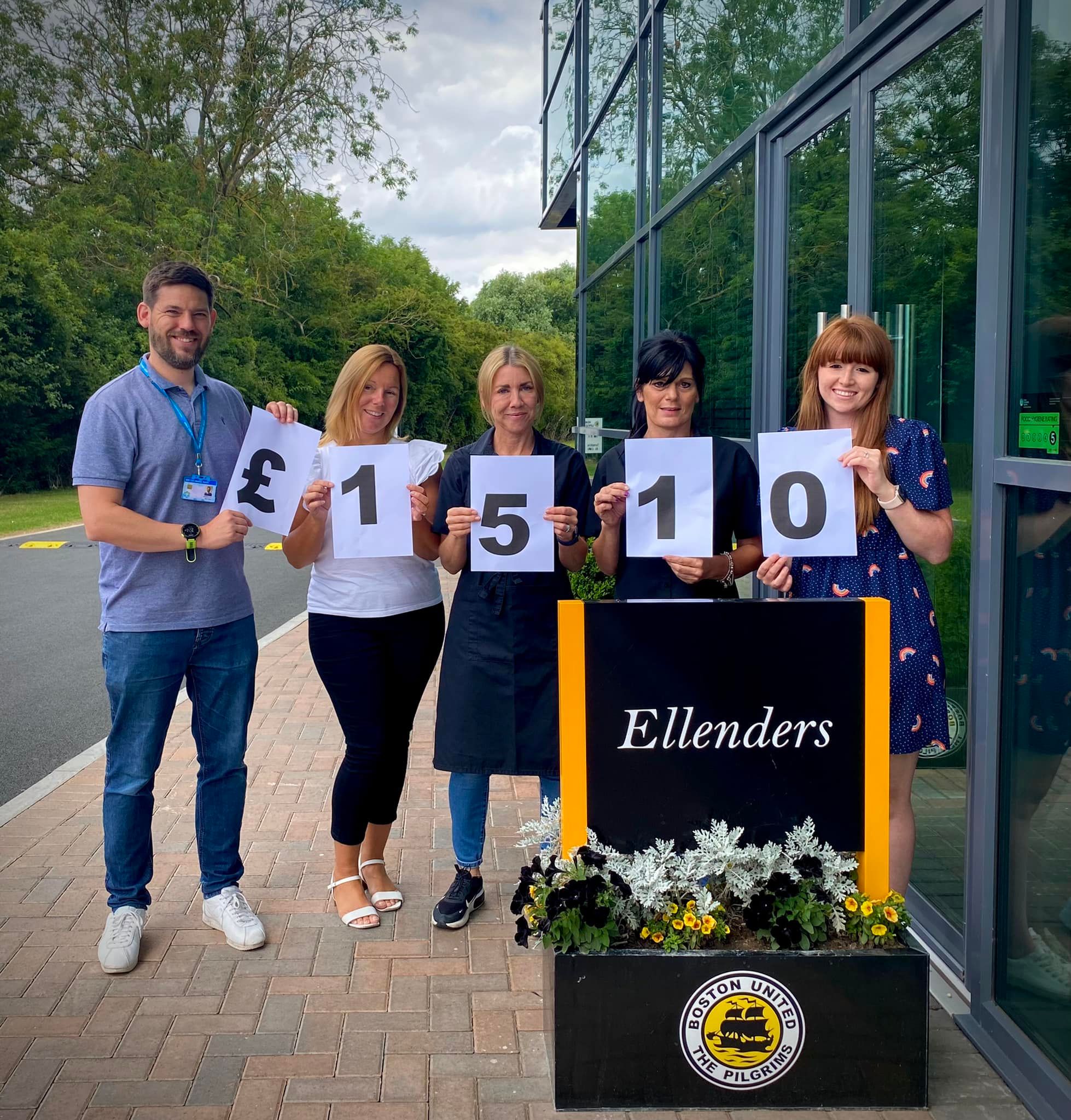 Whilst we gratefully receive donations to our charity from patients, members of the public and other organisations, we also pro-actively fundraise.

Staff, patients and their families work very hard each year to raise money for our Lincolnshire NHS Charity.
We have had balls, a sponsored swim, a charity race night, bake-offs, raffles, sponsored walks, Santa runs, sky dives and so much more.
We ensure that the money raised is spent locally, within the wishes of the donor and with great care to maximise the benefits to our patients.
If you would like to help with fundraising for us then please contact our friendly and helpful staff at lhnt.Charitable.Funds@nhs.net or on 01522 308893
Alternatively you can write to us at:
Beech House, Witham Park, Waterside South Lincoln, LN5 7JH
Please click on this link to download a fundraising pack to support your fundraising.
Visit our fundraising page on Just Giving:
https://www.justgiving.com/lincolnshire-nhscharity

When donating, please make cheques payable to: Lincs Comm Health Servs NHS Trust Charitable Funds and let us know which service or fund your donation is intended for.
Last year we asked you to send in knitted or crocheted flowers which were planted in the courtyard area of the Langworth Ward to enable the patients, many of whom suffer with dementia and have complex needs, to continue with participating in gardening activities without the risk of destroying real plants. We were overwhelmed by the support we received from this appeal and the patients already started to benefit from these kind donations by taking part in a crafting session to attach the flowers to green balloon holders which will act as stems.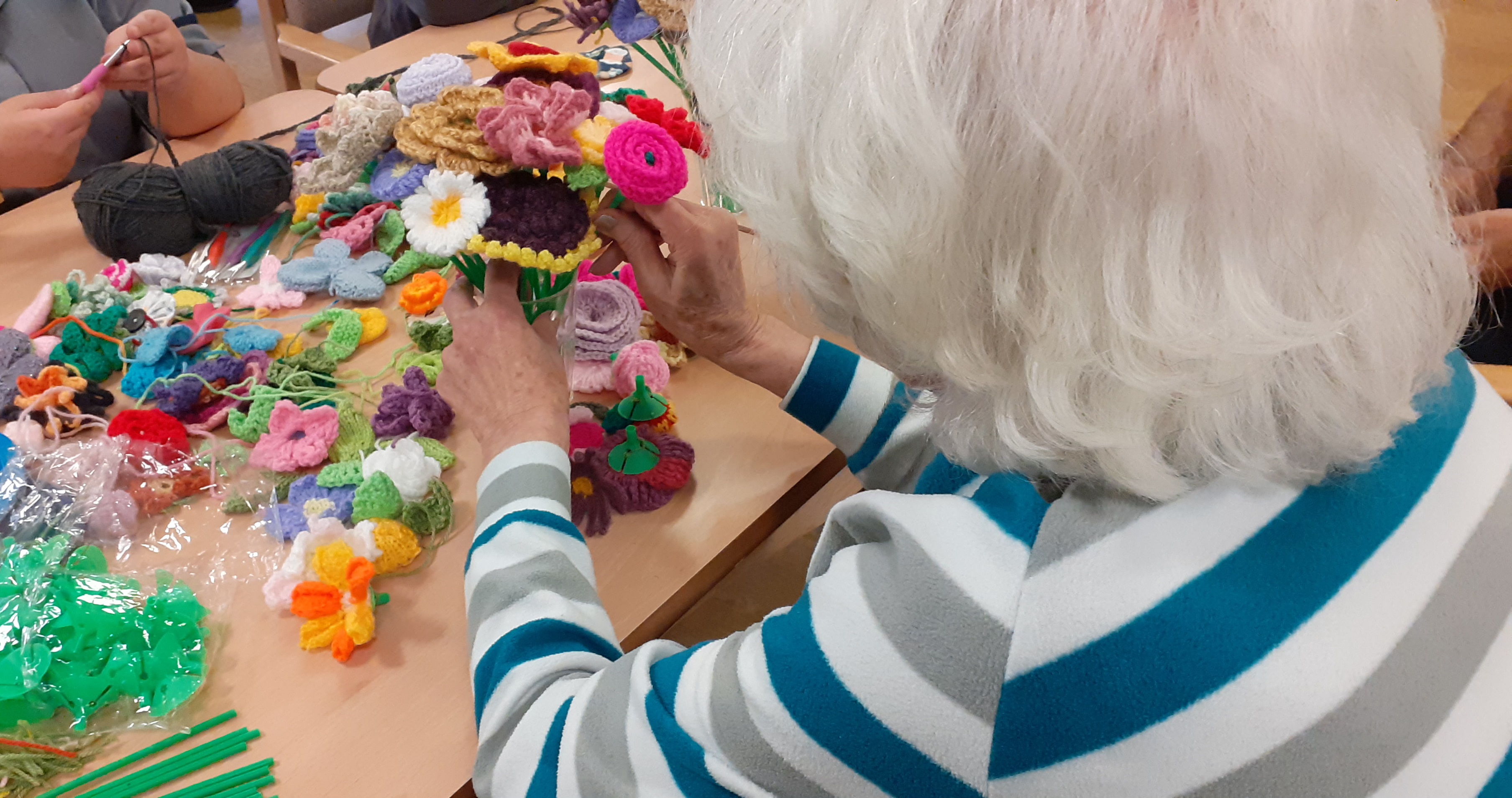 The 2022 Fill Our Courtyard With Colour Appeal
This year we are looking to fill the otherwise quite bland courtyard space with a massive pop of colour through our appeal for knitted patchwork! Patches that are donated will be joined together and fixed to the walls, plant pots, the bench, and other pieces of furniture in the courtyard. This creative use of knitted materials is also known as 'yarnbombing' and has the potential to really brighten the space up.
Here's all of the information you need to know to take part and support this appeal:
Knit or crochet patches approximately 6 inches or 15 centimetres square
Patches can be of any colour, pattern, or texture
If making several patches, it would be appreciated if you could join 4-5 of them together in a strip or square
If you're new to this craft, here's some links to a few online blog posts that talks you through some basic patterns:
Please send all knitted patch donations to:
Anita Laskey (Activity Coordinator), Langworth Ward, Witham Court, Fen Lane, North Hykeham, Lincoln, LN6 8UZ.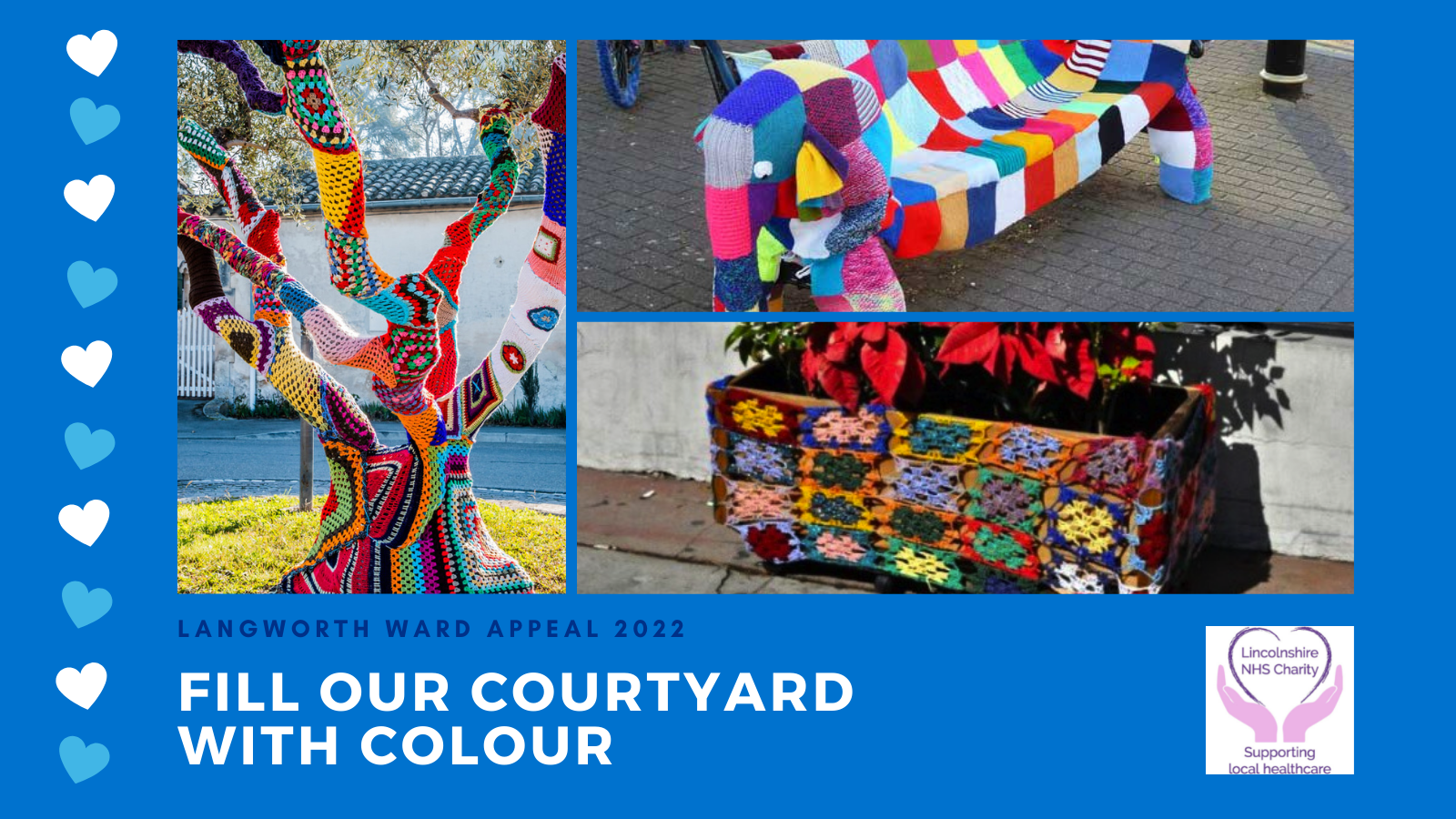 Not much of a knitter but still want to help?
If you don't know your knitting needles from your crochet hooks but still want to help the patients at Langworth Ward to have the best experience and care possible, that's ok! We have a dedicated donation platform to accept donations to directly support patient care at Langworth Ward. Simply click on the button below to be redirected to our Just Giving payment page:
Do you shop online at Amazon.co.uk? Did you know they support local charities?
Few people know that Amazon.co.uk supports thousands of charities across the world with their Amazon Smile platform. This means that 0.5% of your total purchase value could be donated to the Lincolnshire NHS Charity when you activate AmazonSmile at no extra cost to you!
You can find out more and select our charity by visiting there website: https://smile.amazon.co.uk/ch/1055217-0
Last year we received over £30 through Amazon Smile donations - For a smaller charity like ours every penny makes a huge difference to patient care so support our work and sign up today!
If you use the Amazon smartphone/tablet app, here's the instructions on how to activate your account and start generating extra donations for free:
Open the Amazon app
Find 'settings' in the main menu
Tap on 'AmazonSmile'
Follow the on-screen instructions to turn on AmazonSmile on your phone
Lincolnshire NHS Charity are supporting the staff at Scarbrough Ward in Skegness Hospital to raise vital funds to pay for a therapy dog to help rehabilitation and end of life care patients.
Thanks to the amazing support and donations we have received through this appeal we have now raised enough money to purchase our therapy dog puppy! We have chosen to name the puppy 'Rammie' after Dr Ram who works on our ward. Dr Ram can be seen pictured below with therapy dog to be 'Rammie'.
We Still Need Your Help
Whilst we have now raised enough funds to purchase Rammie, we are still fundraising and looking for donations to support Rammie's training and ongoing care needs. We are extremely grateful for any donations we receive via this page, by text, or by cheque.
For more information and to donate online visit our Just Giving page.
Captain Sir Tom Moore has been an inspiration to many of us during the COVID-19 pandemic highlighting the important work of our colleagues throughout the NHS. Through his fundraising efforts, our charitable funds team had the opportunity to apply for some funding to support staff that have been disproportionately impacted by the pandemic.
Upon receipt of the grant funding, Musiiwa Takavarasha, a registered nurse working for Lincolnshire Community Health Services NHS Trust, was appointed to undertake a research project to explore how and why people do or do not access and engage with wellbeing and network support groups available for NHS staff in Lincolnshire during the pandemic. The project was undertaken on behalf of the Lincolnshire Integrated Care System and has been supported by the University of Lincoln.
A report of the findings from this study have now been made available in the form of a written report that can be accessed via the PDF link below.
Click here to access the SWANS study report

Under Gift Aid, HM Revenue & Customs (HMRC) will usually top up every £1 given to a charity with 25p. So Charitable Funds could receive an extra £250 for every £1,000 you donate with no extra expense to you or your sponsors.*
For donations to be eligible for Gift Aid, the donor needs to be a UK taxpayer and have paid an equal amount in income/capital gains tax. This means, for us to claim £2.50 on a £10 donation, the sponsor must have paid at least £2.50 in tax. Gift Aid cannot be claimed on company donations or collections from other people.
To allow us to claim this much-needed additional income, you or your sponsors must:
tick the Gift Aid box on your sponsorship form when they sponsor you or fill out a gift aid declaration form
write their full name and title
include their home address with full postcode
avoid ditto marks. If a number of sponsors live at the same address, they must each complete the address and postcode fields
donate individually. You cannot make joint donations, for example from Mr & Mrs Smith as the HMRC needs to determine who the taxpayer is
For more information about Gift Aid, please visit HMRC's website.
*Please note that Gift Aid top-ups should not considered as part of your sponsorship target.
Fundraising and communications activities undertaken by the Lincolnshire NHS Charity are overseen by a committee of trustees' that are committed to ensuring the charity continues to meet the expectations of its donors and patients in the care of Lincolnshire Community Health Services NHS Trust and Lincolnshire Partnership NHS Foundation Trust.

The committee have devised mission and vision statements and a set of strategic aims that are used to benchmark the fundraising and communications activities undertaken by the charity.
Our Mission
The Lincolnshire NHS Charity will help to improve the health and wellbeing of patients and families served by Lincolnshire Community Health Services NHS Trust and Lincolnshire Partnership NHS Foundation Trust.
Our Vision
To enable the people of Lincolnshire to live well in their communities with great care, close to home.
Our Strategic Aims
To provide additional resources - not normally provided by the NHS - to allow each Trust to achieve its stated vision and mission.
To raise, significantly, the profile of the charity throughout Lincolnshire.
To increase income by encouraging fundraising.
To use money respecting the wishes of donors.
To operate with good and cost effective. governance and within the legal framework of the NHS and Charities Commission.
Back to Join Us
18/11/2022