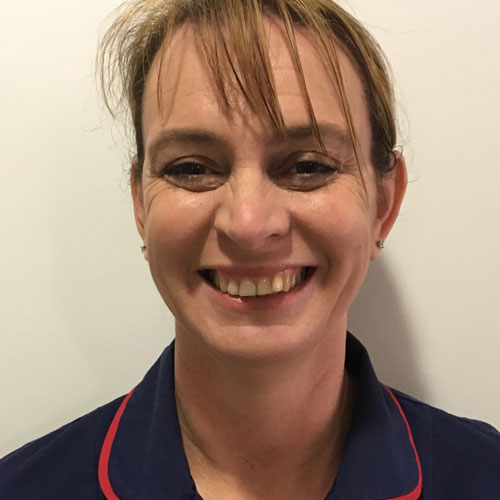 Sally Brown
Outpatients Department clinical team lead/sister, Johnson Community Hospital, Spalding
On a typical day
No two days are the same for me, but as a manager most of my time is office based as I co-ordinate my 30 staff and dozens of clinics each day. I am responsible for ensuring that any absences are covered and all clinics are adequately staffed. Key areas of my role include dealing with new clinic set ups and cancellations, staff support, budget management, liaising with consultants, recruitment and any other daily challenges that are thrown my way on a day-to-day basis! There are always emails, meetings and spreadsheets to contend with but I do still get to don my uniform and work in clinic when the need arises. In this job everything goes!
Tell us how you have made a difference as a nurse
When I joined Lincolnshire Community Health Services NHS Trust 11 years ago, the trust was planning the transfer of Spalding's hospital to a brand new purpose-built site. I was an integral part of this process, carefully planning the new design for both the Outpatients department and the entire building. We worked hard as a team to attract new business and fill the clinics, growing from seven staff members to the 30 of today, all working together to support the patients of South Holland and surrounding areas. More recently, I have supported our team in making changes to our Phlebotomy service. This has seen the introduction of a drop-in service and increased the number of blood tests performed by 10,000 in a year. I have also worked hard to increase staff morale by organising countless social events including overseas city breaks and fundraising events for the hospital. As chair of the hospital ball committee, I have helped raise £70,000 over 10 years with an annual ball that welcomes 500 guests.
What inspired you to go into nursing? What would you say to a young person interested in a career in nursing and midwifery?
Since a very young age I have always wanted to be a nurse. When I was at school I gained a work experience placement for every Tuesday morning which confirmed my desire to help make a difference by caring for people.
My advice to anyone interested in the profession would be to gain as much experience as you can at first to give you a wider scope of experience and opportunity for the future. I changed my mind after every placement in my training regards speciality because I enjoyed them all!
Tell us your most memorable moment
After months of hard work and planning we opened our lovely, shiny new hospital in 2009 – only for a double decker bus to crash into the entrance canopy in the first week! Then there was a flood in the Minor Injuries Unit, which meant all hands to the mops as I found myself walking ankle deep through water with my skirt tucked up to sort it out. Not funny at the time but definitely a memorable start to the new building.
Back to the Year of the Nurse and Midwife